I've got to tell you something Ava. I hate to admit this, but Tom Cruise has done a good job. That Suri kid is cute. You know it took a lot for me to say that. Nothing against babies (however, I really don't like newborns), but I loathe him. I've despised him long before it was popular to do so. At least 10 years, right? I won't say "hate" because Mom would yell at me. And really, he's never cut me off in traffic or called me the C word. But there's just something about him that makes me want to cut myself. He's in my very exclusive club of celebs that I want to spit on for no good reason. Right along with Vivica A. Fox (sure, she was ok in Kill Bill) and Kari Wuhrer (almost ruined my love affair with Mr. Sonny Corinthos). Please don't ask me to explain. Really, I have no reason for wishing that one of these stars will take a nose-dive on Skating with the Stars. One star that almost makes that list was Tracey Ullman. I'm annoyed when people use bad fake teeth. But her new knitting book gets her off my list.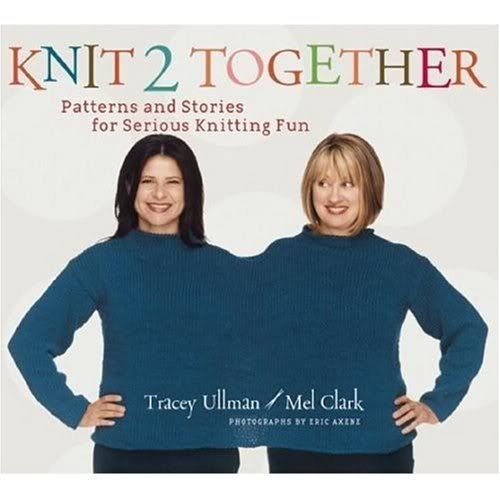 When I heard that she was putting out a knitting book, I was irritated. Once again, no good reason. Trying to kill some time, I went into a bookstore. Huge knitting selection! I found this Knit 2 Together and Debbie Bliss' new one. I flipped through Ullman's book and was happy. Since I have a growing library of patterns/books I'll never use, I put it back. "I'm not going to give in. Oh no!" But then some of the patterns were taunting me. And guess what? Just like T. Cruise, I did a complete turn around. Snatched it up and bought it. The damn book even made me quit another project and start a new one. My Betty is going to be frogged and I'm using the yarn for the Pimlico Shrug. Betty was not fun to knit and I wasn't picking it up very often. And that's the story of how one more knitting book was added to the Lola library.

p.s. "The Debbie Bliss one?" I hear you saying. I'll take a look the next time, but it seems like it's full of patterns she already done.