I'll start this post with an obvious fact to both Ava and myself, she got all the "boobie" genes. Mom had nothing else left for me. I'm 5'9 and a little extra. Only while breast-feeding was my top half in portion to the rest. And we won't even get into the fact that my tiny hands would secure my place in a traveling carnival. I'll say it again, that's a terrific camera and bra! I like Sizzle and look forward the finished picture (Make sure you have a drink in hand and some sand behind you! Make me jealous, please).

I finished the Knucks, but probably won't post any shots. They look like all the others. Next time I may lengthen the cuff, or go down a needle size. They kind of flair out, but that may have to do with the constant turning inside-out while seaming. I'm sure that a good ole fashion blocking will fix it.

Just thought I'd show how a ball of yarn doesn't only entertain you & I. Gus found a small ball of leftover sock yarn.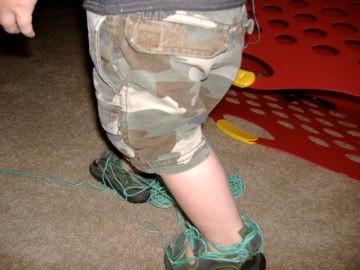 He thought it was hilarious that he could hold onto one end and this thing followed him around. He thought it was even funnier when he'd toss the ball at Pup. He damn near pee'd his diaper when he kept tripping over the mess in his sandals. I know this isn't a toddler-safe toy, which is why I sat him down to remove his yarn sandals. This is what ensued:




Have a blast on vacation. Oh, where has this summer gone? The days are coming that I'll have no one to talk to during Dr. Phil. Oh, how I hate those days...